DO YOU HAVE AN ESTATE PLAN?
Get Affordable Assistance at All Write!
new 2016 law allows transfer of real estate to a beneficiary
without the necessity of a living trust! Call for more info!
"In this world nothing can be said to be certain except death and taxes. "
Benjamin Franklin
An unplanned estate adds confusion and burden to your
family's grief and sorrow at the time of your passing.
Don't Delay-Plan Your Estate Today

LIVING TRUSTS SAVE YOU THOUSANDS OF DOLLARS! AVOID PROBATE!

The importance of a properly prepared estate plan cannot be overstated. A probate can cost thousands of dollars in attorney fees, court filing fees and other legal fees. A probate can take a year or more to complete and is a burdensome court process for your loved ones. If you want to save thousands of dollars and the time involved in probating an estate, then you have probably decided its time for you to prepare your living trust. By doing it yourself with the assistance of All Write Document Prep you will save hundreds of dollars and receive personalized professional assistance. We offer complete estate plan packages which include the typing of a living trust, back-up will, financial power of attorney health care directive, and certification of trust. You will also receive the necessary documents to help fund your trust, such as the Trust Transfer Deed. On-line do-it-yourself trust services cannot provide you with the same personalized and thorough assistance you will receive from All Write Document Prep. We are always available to answer your questions and legally provide you with free written information to assist you with the preparation of your living trust from start to finish.
---
THE COST OF PROBATE IN REAL DOLLARS

The cost of probate is determined by law known as statutory commissions. These "commissions" are paid to the attorney handling your case and the executor is entitled to receive the same amount of "commissions" as the attorney. Currently the statutory commissions are set as follows:
(1) Four percent on the first one hundred thousand dollars
($100,000).
(2) Three percent on the next one hundred thousand dollars ($100,000).
(3) Two percent on the next eight hundred thousand dollars($800,000).
(4) One percent on the next nine million dollars ($9,000,000).
.(5) One-half of 1 percent on the next fifteen million dollars
($15,000,000)
(6) For all amounts above twenty-five million dollars
($25,000,000), a reasonable amount to be determined by the court.





In real dollars this potentially means a

$200,000 estate costs $14,000
$400,000 estate costs $22,000
$800,000 estate costs $38,000

In addition there are court costs, publication fees and appraisal fees which will cost a minimum of $2000-3000.

Last, but not least an attorney can charge additional fees known as extraordinary expenses.

PLANNING YOUR ESTATE WITH A WILL

The threshold for determining probate of an estate is currently $150,000. If you have a small estate worth less than $150,000 you do not need a living trust to avoid a full-blown probate. Instead there are simpler and less costly probate procedures available for your heirs to inherit. Whether you decide to use a Trust or a Will to pass your assets to your loved ones is a decision that you alone can make. What's important is that you have some kind of estate plan. Without a Will or a Trust you will have no control over who inherits your assets. The plan for distribution is determined by law known as "intestate succession." Your assets may be inherited by people that you never intended to inherit. If you want to make certain that the people of your choice inherit your estate then you must plan your estate with a Will or a Trust.
FINANCIAL POWER OF ATTORNEY AND ADVANCE HEALTH CARE DIRECTIVE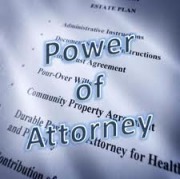 When planning your estate two documents that are often overlooked are the Financial Durable Power of Attorney and the Advance Health Care Directive.
A financial power of attorney may be known as a General Power of Attorney, or a Durable Power of Attorney. These are simply different names for the same document. An Advance Health Care Directive may also be known as a Durable Power of Attorney for Health Care or a Medical Directive. These two forms are especially important to you during your lifetime, as failure to prepare these forms before you need them may result in serious legal and financial difficulties for you and your loved ones. Failure to have these documents prepared and available in the event of your incapacity during your lifetime may result in the necessity of a court proceeding known as a
conservatorship
. This may be the only way for someone to gain the authority to handle your financial matters and to direct your medical care.
If you want the assurance that the person of your choosing is able to step in and take care of your financial and medical matters in the event of your incapacity, then it is crucial to have these documents prepared as part of your estate plan.
---
CONTACT US:
Phone: 951-674-3000
Fax: 951-905-1367
e-mail: dburton@divorceandlivingtrusts.com
The information provided on this website is not intended to be legal advice. The preceding is provided for informational purposes only.
WE ARE NOT ATTORNEYS AND DO NOT GIVE LEGAL ADVICE
Temecula, Murrieta,, Corona, Wildomar, Menifee, Sun City, Hemet, Lake Elsinore, Perris
Riverside, Moreno Valley, Riverside County, Inland Empire