THE DIFFERENCE BETWEEN A PARALEGAL AND A LEGAL DOCUMENT ASSISTANT

What is a Legal Document Assistant?(LDA)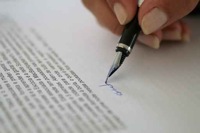 A little known consumer protection law went into effect on January 1, 2000 known as California Business and Professions Code Section 6400, et seq. This law affects all persons (formerly called paralegals) in the State of California who provide self-help services to the public. This new law defines a Legal Document Assistant as someone who: "... provides, or assists in providing, or offers to provide, or offers to assist in providing, for compensation, any self-help service to a member of the public who is representing himself or herself in a legal matter or holds himself or herself out as someone who offers that service or has that authority."
A Legal Document Assistant must be registered and bonded.
When applying to the County to become registered he or she must prove that they meet the minimum education and/or experience qualifications. Upon satisfactory proof as set forth in B & P Code 6400 and upon filing of a bond the Legal Document Assistant will receive an Identification Card issued by the County where they provide their services. The law also requires a Legal Document Assistant to use a contract that is prepared by the Department of Consumer Affairs for Legal Document Assistant Services.When choosing a Legal Document Assistant be sure to:
1. Ask to see their County Registration I.D. Card.
2. Get a written contract.
3. Ask for the office procedure regarding refunds.
4. Look for an established business.
For more information on Legal Document Assistants, visit the California Association of Legal Document Assistants website at
www.calda.org
---
Beware the illegal paralegal!

It is illegal for a paralegal to provide services to the public unless they are registered as an LDA, and in that case they will go by the title of Legal Document Assistant! A paralegal may only work as an employee or independent contractor for an attorney, and MAY NOT assist people who are representing themselves in legal matters. Unfortunately there are still paralegals selling document preparation services to an unsuspecting public. Since the consumer knows non-attorney document preparers by the common name of "paralegal," it is easy for an uninformed consumer to believe that they may seek the assistance of a paralegal for help with their legal forms. Keep in mind, however, that the reason a paralegal is not registered and bonded, and operating as a Legal Document Assistant as required by law, is because he or she most likely cannot meet the minimum qualifications to become registered. The law requires registration in order to ensure to some degree that the non-attorney document preparer has a level of education and/or experience sufficient to carry out their duties as a document preparer. Don't be fooled by any individual who calls himself or herself a paralegal and offers to prepare your legal documents for a low fee. If the individual does not have a County issued Legal Document Assistant Identification card, then he or she cannot legally provide services for you.

Hours of operation Mon-Thurs. 9:00 to 5:00 and Friday 9:00 to Noon
Contact us by phone 951-674-3000 or e-mail dburton@divorceandlivingtrusts.com
fax 951-905-1367
31641 Auto Center Dr., Ste. 1B, Lake Elsinore, CA 92530
WE ARE NOT ATTORNEYS AND DO NOT GIVE LEGAL ADVICE.
Temecula, Murrieta, Corona, Wildomar,
Menifee, Sun City, Hemet, Riverside, Moreno Valley, Riverside County, Inland
Empire